Detox Delight 3-day clean out tried, tested and APPROVED!
As a new year is synonym with new resolutions, we were keen on experiencing a detox program to start 2016. But with cool temperatures around, you don't feel as motivated to go for a juice diet. What made us pick Detox Delight is that they invited us to experience an appealing detox program mixing juices and soups made using raw, natural ingredients and no artificial additives, colorants, flavors or emulsifiers.
For every day, this cure contains 4x500ml Detox juices to sip filled with enzyms and vitamins and a 400ml soup to enjoy at dinner time.
Here is our own experience.
Tuesday night, a driver delivers the precious beverages in an impressive and heavy cooled package containing our 3 day program (12 juices and 3 soups in total).
Hidden under ice cubes, we have a pleasant surprise as the bottles look colorful, fresh and with very cute tags. Numbers (1 to 4) on bottle caps indicate us the order to drink our daily juices. Detailed information about the detox symptoms come along with some snack tips in case hunger becomes overpowering. Straws are also included and recommended to use to force you drink slowly and chew your juices in order to mix it with the digestive enzyms in the saliva, making it easier for our body to digest.
Reading the detox guide sent by Detox Delight two or three days before the program start, we realize we will have to ban our coffeine fix for three days as only still water and herbal tea are allowed.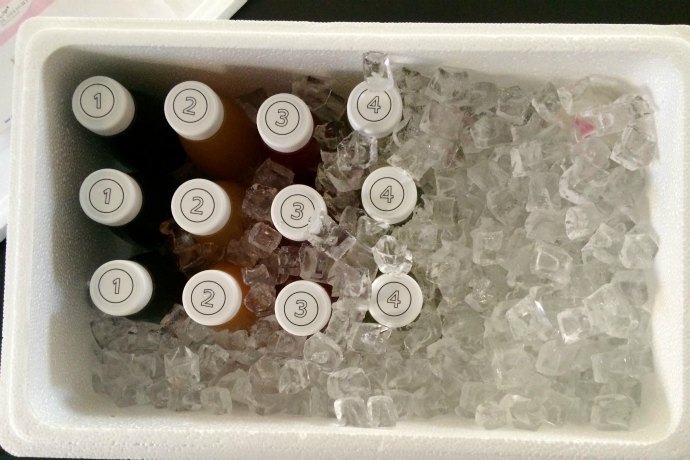 DAY 1
7am, no coffee today and we have to check several times as the program weirdly starts with Lemonade as bottle number 1. Our curiosity made us ask to sample the black lemonade (with activated charcoal, filtered water, lemon, maple syrup and chili pepper). A nice surprise as it tastes fine, not too sweet but is slightly spicy.
Sticking to our regular schedule, we have our 45 minutes indoor biking and appreciate our warm herbal tea when back to work.
9.30am, time to experience bottle number 2 labelled Orange which has a strong carrot taste (apple, carrot, honeydew melon, cucumber and cayenne). We get used to it after a few sips and enjoy the refreshing after taste.
At lunchtime, it's Pink juice (apple, carrot, orange, pear, beetroot , lemon and ginger) which has a distinct beetroot taste.
We got the Green in the afternoon (apple, cucumber, swiss chard, fennel, parsley and lemon).
By 7pm, it was such a reward to taste our handmade pumpkin and carrot soup. Creamy texture, flavorful thanks to ginger, it was accompanied by pumpkin seeds in a small box aside.
DAY 2
The brews were much easier to go through and we had our usual yin-yan yoga session. We felt much less tired than Day 1. The broccoli and swiss chard soup served with cream on the side was again wholesome and tasty.
DAY 3
Probably excited that the program was almost over, Day 3 was the easiest day and we managed to go out carrying our precious beverages in a cool bag packed with ice. We really enjoyed the courgette lemon soup.
Verdict
An overall great experience as we could first see some results with a winning minus 1.5kg on the weighing scale.
We must admit, we did have a headache in the afternoon and evening on Day 1, slept much more than usual (in bed at 9pm on Day 1 and Day 2 with an 8 hours sleep) which we considered as part of the program, detoxing both body and mind.
Nothing to improve in the program except a summary sheet that explains you the order you should have each drink and the average interval in between each for those who don't go through the detailed PDF guide.
It's much easier to plan your detox ahead and make sure your agenda won't be filled with too many appointments as you may feel you work slower than usual.
We'll definitely try it again and even feel ready to try a 5 day detox in the future as we appreciated the freshness and taste of the products, the efficient service, and the lovely branding which is a welcome detail that helps you stick to your program and achieve your goal. Another option if you are not comfortable with so many juices is the 2 soups a day with 3 juices.
A 3 day cleanse is priced at 1,200 AED including delivery in Dubai and 1,120 AED if you can and pick up your order. 
DETOX DELIGHT | Dubai | +971 4 338 35 65 | Website
---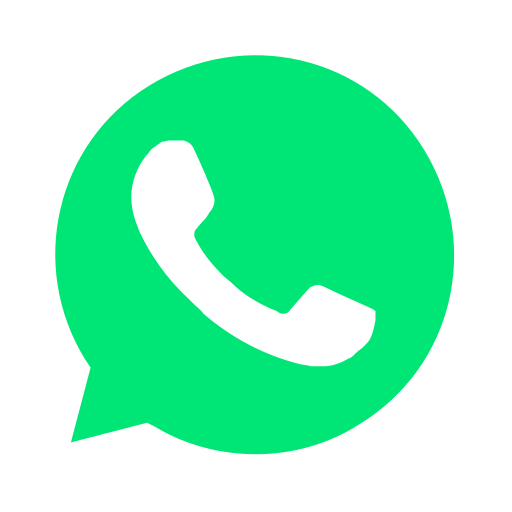 Join our WhatsApp group and receive curated news and offers in your WhatsApp Feed