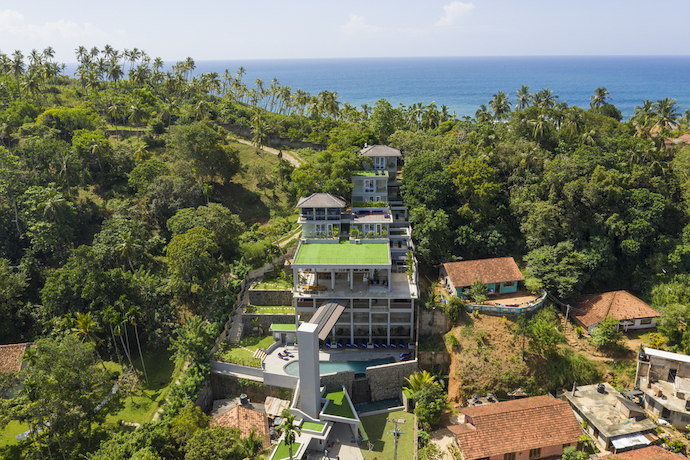 The Nine, Mirissa, a brand new nine-story, seven-bedroom villa in Sri Lanka overlooking the sea is an architectural feat of monumental proportions. Like a geometric planet in its own peerless orbit, the nine-storey villa represents a tectonic shift in Sri Lanka's tourism boom. And Dubai & Abu Dhabi Confidential was its very first guest.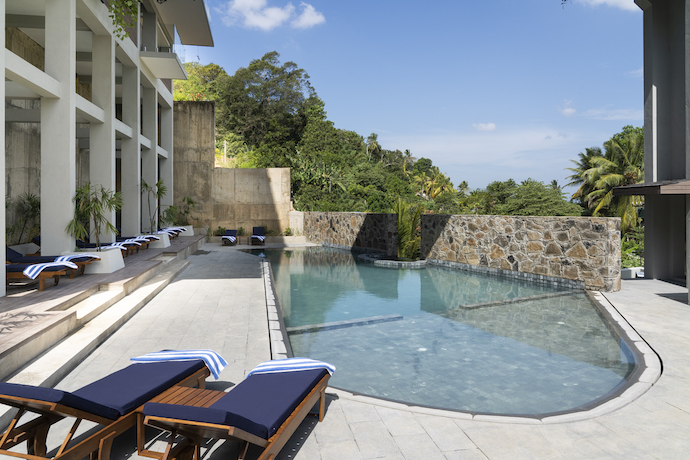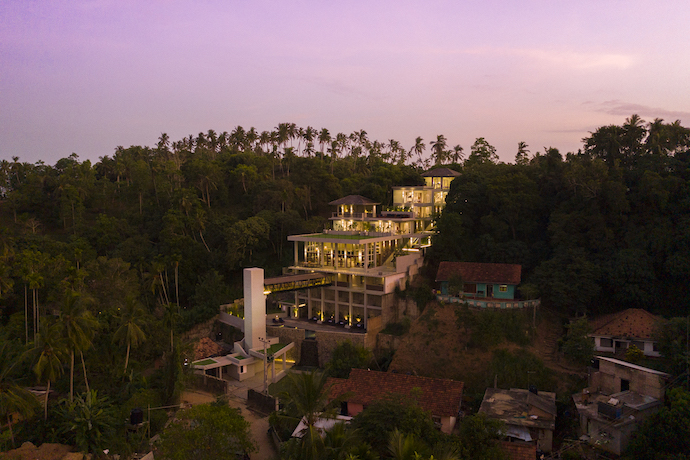 Harmonising the fundamental design elements of proportion, architecture and "wow" factor to create a synergy between aesthetics and comfort, The Nine, Mirissa is a true one-off. Given its architectural blueprint, it won't come as a surprise to learn that its owners are all based in Dubai.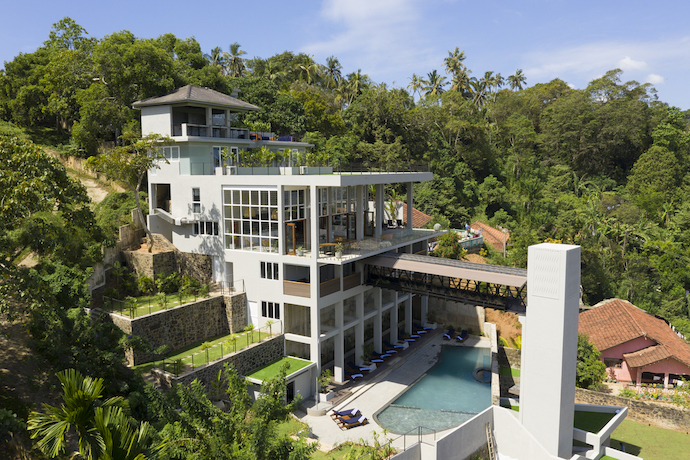 Looming over what was once a sleepy fishing village, the villa's location above the marina means we were always in sight of soothing sea views. It also so happens to be surrounded by a profusion of palm and kumbuk trees, lending it a tropical jungle feel. It's no wonder that the regal peacocks and Sri Lankan Toque Macaque monkeys who frequent the gardens are also fans of this scenic spot. Don't worry – they won't bother you if you don't bother them.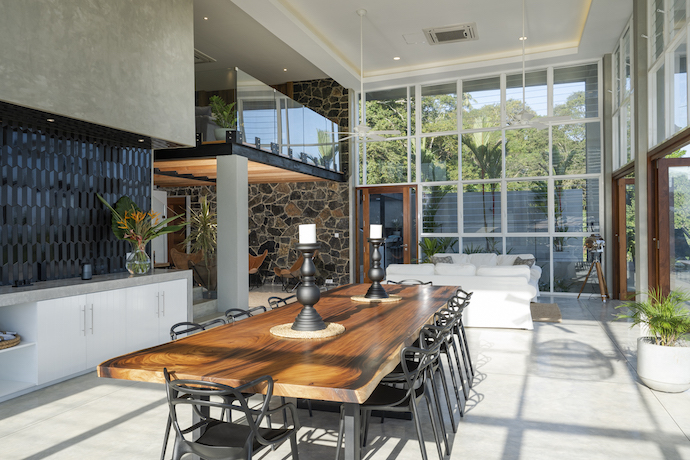 The Nine, Mirissa is home to seven bedrooms – one of which can sleep eight children in bunk beds – a garden large enough to play football in, an indoor and outdoor kitchen, two chic bars, sprawling indoor and outdoor dining areas, a television and gaming room, and a homely lounge area with large sofas for flopping onto and stretching out.
THE ELEVATOR – YES, REALLY!
OK, so we're unable to give a number off the top of our heads, but we'd wager that there are very few private villas on the island that come with their own lift. This is not just a cool design element either: the sheer scale of the project demands it. The villa, which sits on towering stilts, could soon have folktale status given that is seems to disappear into the clouds – much like Jack's beanstalk. if you're standing at its entrance it's almost impossible to see the top. The elevator whisks you up to the pool and terrace area on the first floor, and then the reception – leading to the living and dining areas – on the second. For the remainder of the five floors, it's up to you and your feet!
THE ROOMS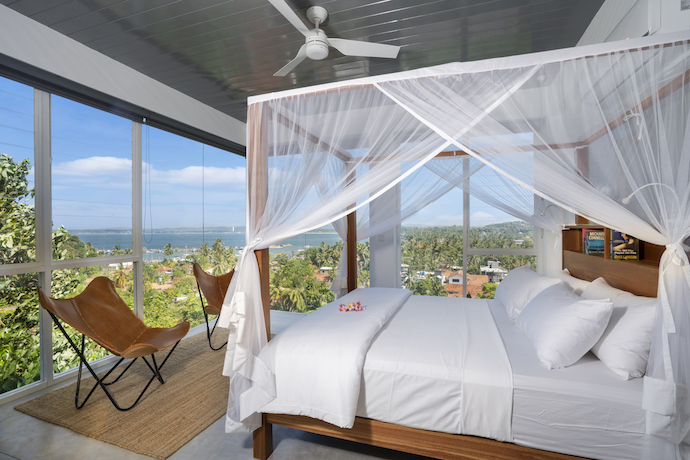 Aside from the aforementioned bunk bed room which can sleep eight, and which also has its own separate bathroom and toilet, all the guest rooms are the same size so there's no arguing over who gets the master room. The villa is designed for families and groups of friends to hire in its entirety – not as separate room rentals. With sliding doors leading on to the garden or a terrace, the bedrooms are full of natural light, but also come with a nifty blind system for when you need privacy. The all-white beds create a welcoming halo effect, with mattresses so comfy it's like collapsing onto a bag of marshmallows, while mosquito nets keep any unwanted visitors at bay. The oversized grey bathrooms with his and her sinks and a walk-in shower are music to your sun and salt kissed skin after a day of swimming, surfing, and sunbathing.
DINING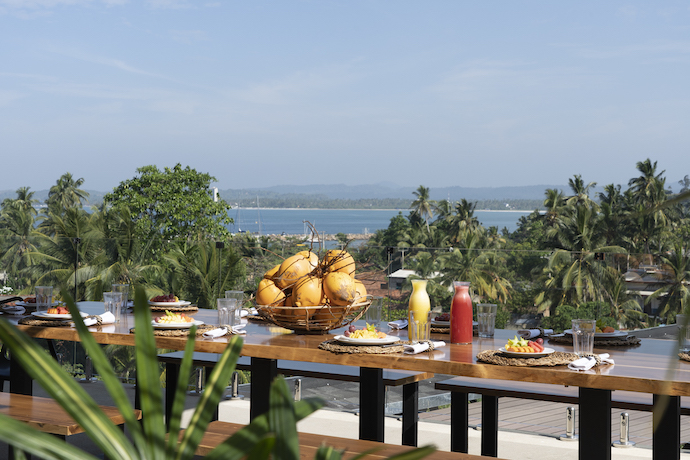 You name it, your villa chef can whip it up. Give the location, we ensured we got to grips with the local specialities including gotu kola mallung (salad) made with chopped greens and chilies, and a tangy, salad-like taboulleh made from kotu kola leaves (Asiatic pennywort). Eggplant is also big here – we loved the caramelised eggplant (wambatu) moju. Then there are curries made from the freshest seafoods or free-range chickens, and green jackfruit curry (polos) cooked with mustard seeds, turmeric, chili powder, curry powder and pandan leaves. But Chef is also a barbeque maestro – there just so happens to be an outdoor kitchen – and is also a dab hand at holiday comfort food including pastas, burgers and tacos. If you do feel like a change of scenery (although when the scenery is this good, why change it?) Margaritas down the road is an unassuming looking spot that serves the best crispy calamari and thin-based wood-fired pizzas in town. The owner spent many years cutting his cloth at Dubai's Bice; in spite of the much smaller kitchen, we believe that Margartitas has the edge.
ACTIVITIES
With a stunning 30-metre palm-fronded swimming pool, most guests are happy to just chill at the villa. But there's loads to explore in the area, including three beaches within walking distance; the closest is the popular Mirissa Beach which, with its cool beachfront bars and cafes, has a wonderfully bohemian feel. Pull up a sun lounger outside one of its restaurants and brave the pounding shoreline waves to put you in the holiday spirit.
Allow your day to break with morning yoga sessions on the lawn at The Nine, Mirissa; the villa manager can arrange private sessions. He can also organise a series of day trips and sightseeing excursions. Our favourite has to be a whale watching adventure with Sail Lanka. Step onboard a swanky catamaran and discover the joy of skimming across the warm waters of the Indian Oceans to play eye spy with the whales, dolphins, turtles and prolific ocean life. Sail Lanka's team will ensure you feel welcome and safe from the moment you kick off your sandals and settle onto one of their luxurious vessels.
For those seeking something which takes the adrenaline levels up a notch, we highly recommend surfing lessons. The surf schools adjacent to boutique hotel W1 on the nearby Weligama beach get our vote; the local instructors are especially good with younger travellers.
PAMPERING
The Nine, Mirissa can arrange for a masseuse to come to the villa – we told you they were good – but we'd really recommend you head out to Good Spa, just a short tuk tuk drive away. A tuk tuk driver lives next door so you're never in a bind when it comes to transport. The picture-perfect Good Spa enjoys an enviable riverside location and our masseuse knew exactly which areas needed her attention.
STILL NEED CONVINCING?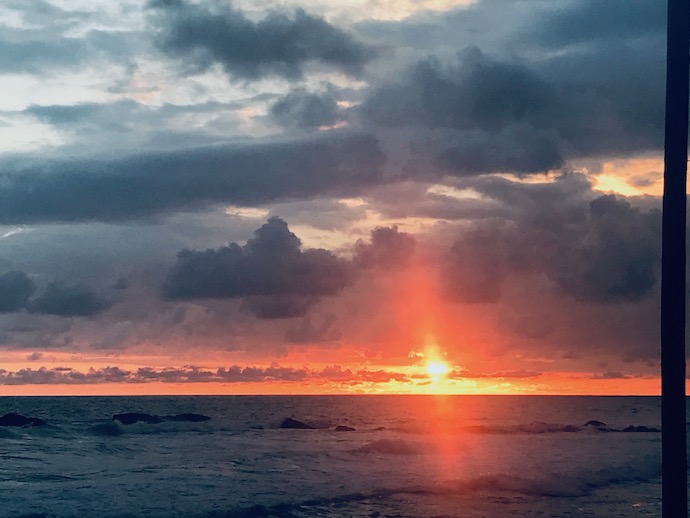 With unlimited access to pampering, a sensational pool, breezy beaches, an array of activities and fabulous cuisine in one might fine villa – the likes of which the island of Sri Lanka has never seen – The Nine, Mirissa is a fantastic choice for groups of families and friends. It's also the perfect party house. But no one said you had to have a reason to celebrate.
For more information visit www.theninemirissa.com
---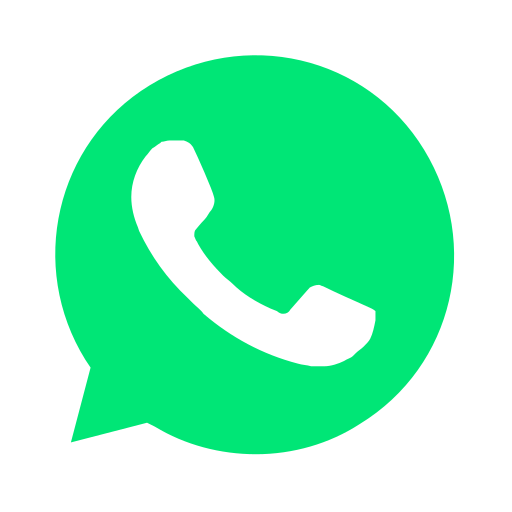 Join our WhatsApp group and receive curated news and offers in your WhatsApp Feed