Caesars Resort Bluewaters Dubai is a family-friendly hotel which makes for a fun staycation that UAE residents do not want to miss out on.
LOCATION, LOCATION
Slap bang next to Ain Dubai, the world's largest observation wheel – yes, even bigger than the London Eye – Caesars Resort Bluewaters Dubai enjoys an enviable location on a private strip of private of beach on the buzzy Bluewaters Island.
Unusually for Dubai, it is remarkably pedestrian-friendly meaning guests can get acquainted with the shops, restaurants and entertainment on offer in the area. This is in line with developer Meraas' vision of designing and connecting diverse places for an active urban life. Caesars Resort is located alongside its bigger brother, Caesars Palace, as well as The Residences – which offer one to four-bedroom serviced apartments for short and longer rentals – and the adjoining Cove Beach club.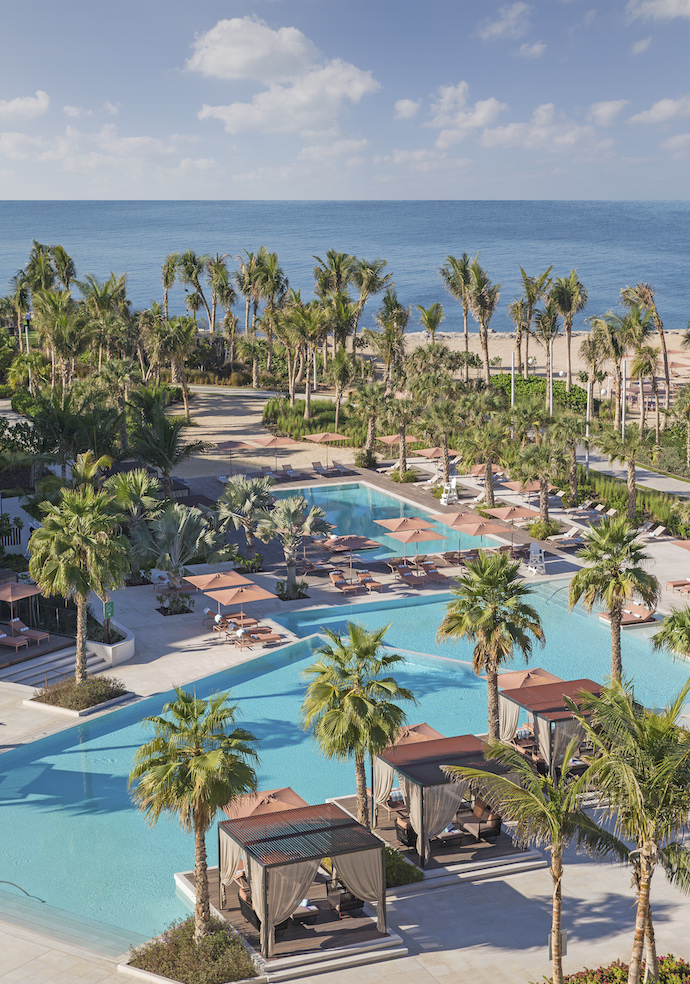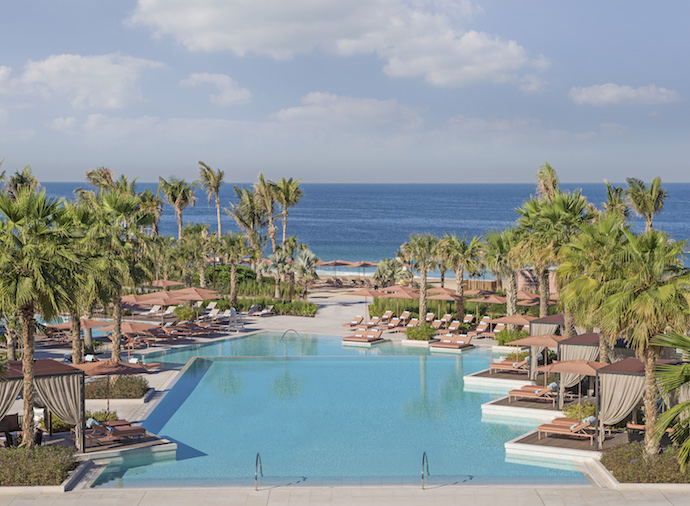 THE MIGHTY CAESARS
This is the brand's very first venture outside of their legendary Las Vegas outpost. And while the spirit of Caesar's is alive and well in Dubai (albeit with no gambling), it is a much subtler, more refined affair. Meraas are known for their cool, understated, holistic design ethos, so while it is Romanesque in design, unlike the Vegas version you won't find anything overtly flashy here. You will, however, encounter playful references in the shape of a bodacious statue of the Roman dictator, some eye-catching artworks and quirky lighting features to remind you that you are indeed in one of Caesar's homes. Guests, both young and old, can also expect to be treated like emperors for their stay.


FAMILY-FUN BY THE TONNE
While everyone is well taken care of, our kids received the warmest welcome of all with personalised greeting cards, balloons and a rose gold crown dotted with beautiful homemade treats waiting for them in the room. This is along with their invitation to the Empire Club where there is a day full of activities (except between 1 and 3pm) including a Gladiator and Centurions session, aqua adventures, cooking like a Roman classes and desert dance offs. The resort also has two separate swimming pools; the one for families has expansive shallow areas on both sides of the pool.
DINE LIKE AN EMPOROR
Just like Roman culture is steeped in art and family, so too is it immersed in food; as such they take dining very seriously here. The Resort itself has six restaurants, bars and lounges (there are 15 outlets in total if you include the Palace), with an extensive buffet breakfast served at Bacchanal between 6.30am and 11am. We know you're on holiday, but it's advisable to get there early as when we arrived at 10am it was heaving. We had managed to enjoy a much-needed lie-in, followed by a gym session in their boutique Technogym, so we were prepared to battle the crowds.
We highly recommend pushing the boat out at Hell's Kitchen in Caesars Palace for a dinner one evening.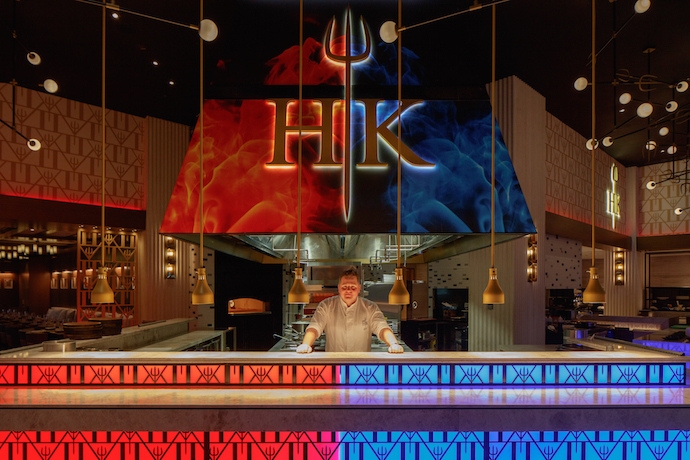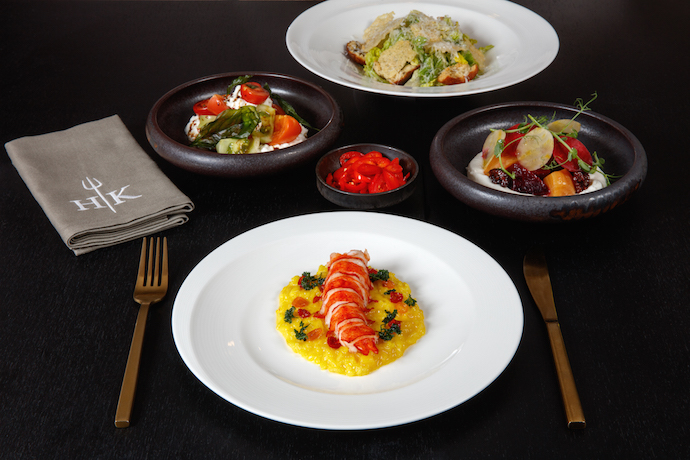 The latest regional venture by popular British food connoisseur Gordon Ramsay, the restaurant is worth a visit for its excellent service alone. So often in Dubai the service is full of good intentions, but never quite hits the mark. Here they manage to get it just right with every member of the family having an equally enjoyable experience. The highlights were the sweet and saline crab appetiser, the excellent burger, substantial enough for two children to share, as well as the succulent, top grade rib-eye steak, even though it was a tiny bit more medium than the medium rare we had requested.
Lunch the following day was enjoyed al fresco at the scenic Sandbar Bar & Grill, which serves a range of accessible Southern French dishes including excellent salads and sandwiches. The seaside setting is incredibly relaxing and there is plenty of shade – welcome respite after spending a morning at the pool. Again, the service was warm and efficient.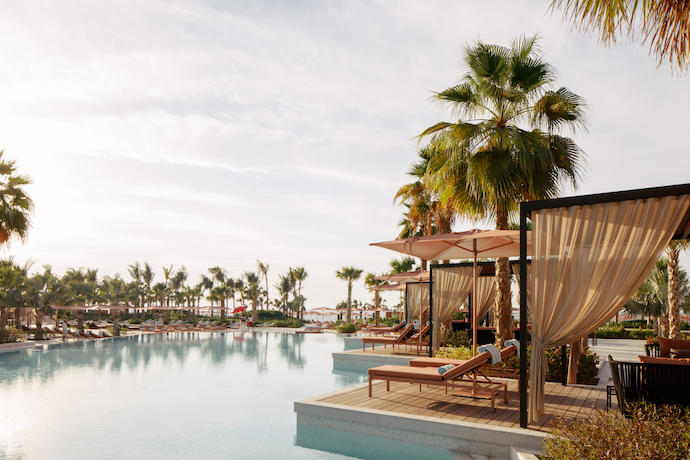 A ROOM WITH A (STUNNING) VIEW
All too soon it's time to pack up our comfy room, but with the younger contingent running riot in the kid's club, at least it makes the task quicker. Of the five room categories available, ours was a one-bedroom suite offering jaw-dropping views over the pool and ocean.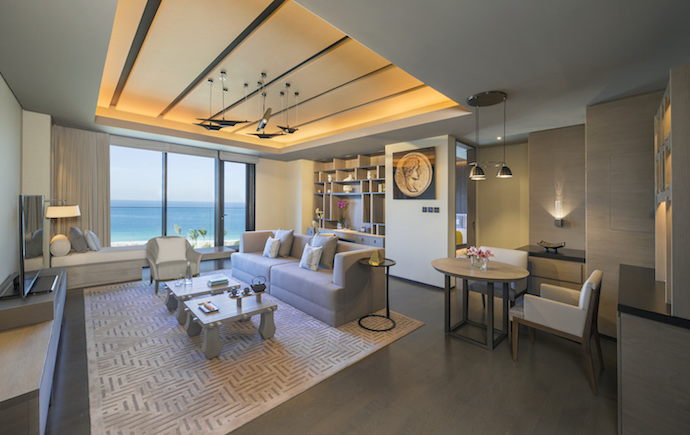 The piece de resistance is its sizeable balcony, perfect for lounging on with a coffee from the room's Nespresso machine. It has a completely separate living area making it feel more like two rooms, and an efficient wardrobe and mini bar set up. The bathroom, in all of its marble and sparkling rose gold glory, is another nod to the decadence of Caesar's times, enhanced further by its deluxe bathroom amenities by Italian perfumer Lorenzo Villoresi.
SPA AND AWAY
Romans practically invented spas; the word "spa" is an acronym for the Latin phrase salus per aquae or "health through water." While you won't find a sprawling Roman bathhouse at the small and unassuming Qua Spa at Caesar's Resort, you will feel suitably rejuvenated after a session here. Do yourself a favour and book yourself a soothing Sense of Calm massage with Mercy; you'll never be this grateful to be at the mercy of someone ever again.
---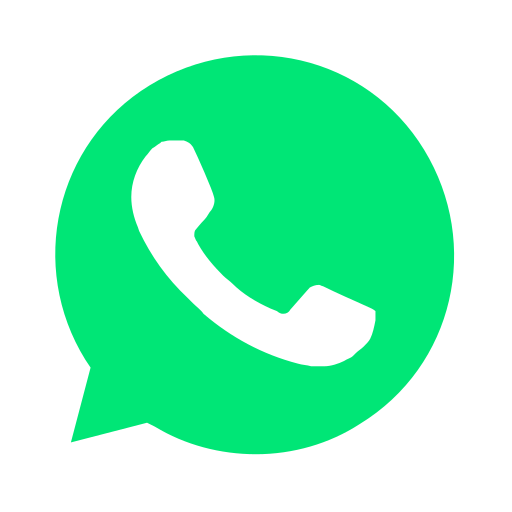 Join our WhatsApp group and receive curated news and offers in your WhatsApp Feed