Jun's offers Asian flavors mixed with a bit of North American classics presented in a modern, progressive format.
We have to say we started 2023 on the right foot with our first review at Jun's. Located in the heart of Downtown Dubai on Sheikh Mohammed bin Rashid Boulevard with views of the Burj Khalifa, Jun's is a space to celebrate coming together. A modern fine dining experience where the food is simple in presentation and massive in flavor. The brainchild of the brilliant and highly talented Chef Kelvin Cheung, Jun's is a nostalgic ode to North American Asian flavors presented in a modern, progressive format.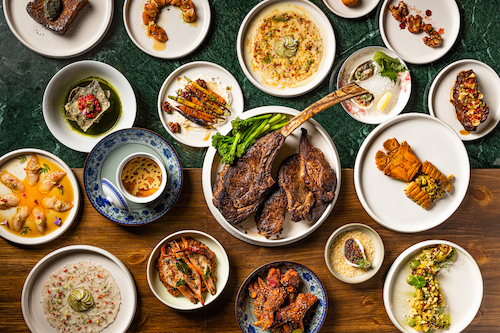 Born in Canada, raised in Chicago, and based in Dubai, Kelvin Cheung is a Chinese-Canadian who grew up in the kitchen. The third-generation chef spent the better part of his childhood training for his life of traveling the world and cooking in kitchens in unfamiliar places. A dedicated family man and wellness advocate, Cheung firmly believes in preserving nature's bounty for future generations and is committed to the practice of using sustainable seafood and seasonal products. His phenomenal dishes speak for themselves!
Set against the backdrop of the glistening Boulevard and its suave architecture, Jun's has brought a breath of fresh air to the fine dining scene of Dubai, from succulent food made from the freshest ingredients to drinks designed so beautifully, they take guests to a voyage through the world.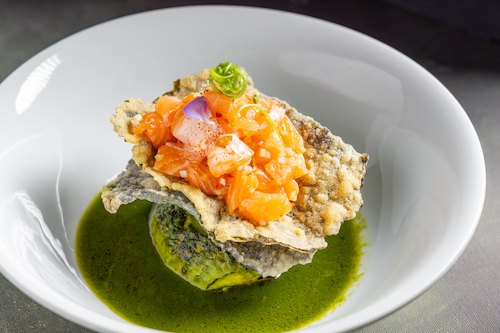 The minimal decor inside doesn't overwhelm the senses and while the place is beautifully styled, the focus always remains on the food. The masterfully curated menu has a story behind every dish and offers unique combinations that challenge diners to think about Asian food in a different way.
One of our favorite items is the Sesame Prawn Cheese Toast, which is inspired by the humble pairing of grilled cheese and tomato soup. In this dish, shrimp paste and sesame seeds are spread on gluten-free toast and paired with Chef Kelvin's mother's iconic Singaporean sauce. Every Sunday, she would prepare it, and the family would wake up to the incredible smell of cooking in the kitchen before she went to work at the restaurant.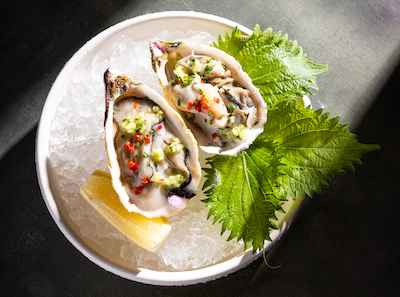 The  Truffle Gunpowder Dosa Cauliflower, is a nod to predominantly rice-based South Indian cuisine, which has always been a go-to cheat meal in Chef's household. Crispy cauliflower coated in dosa, tossed with gunpowder, topped with fresh truffle, and served with sambhar sweet and sour sauce and tomato chutney creates the ideal texture and flavour balance.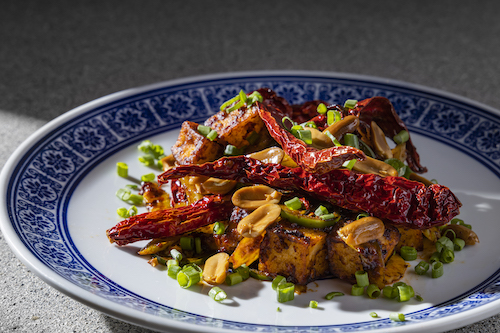 We found ourselves swooning over Chef Kelvin's signature creation, charred Rainbow Heirloom Baby Carrots. When the chef's mother immigrated to North America, she fell in love with bagels topped with smoked salmon and cream cheese. He's recreated the same smokey flavour in a vegetarian form with charred Rainbow Heirloom Baby Carrots served over smoked labneh and topped with candied walnuts, as an ode to his Chinese heritage served with house-baked sourdough.
Offering guests a bespoke experience with a delightful North American Asian menu paired with carefully designed cocktails made to captivate diners, Jun's is an escapade that should not be missed this winter.
Reservations: online via sevenrooms or by calling (04) 457 6035
---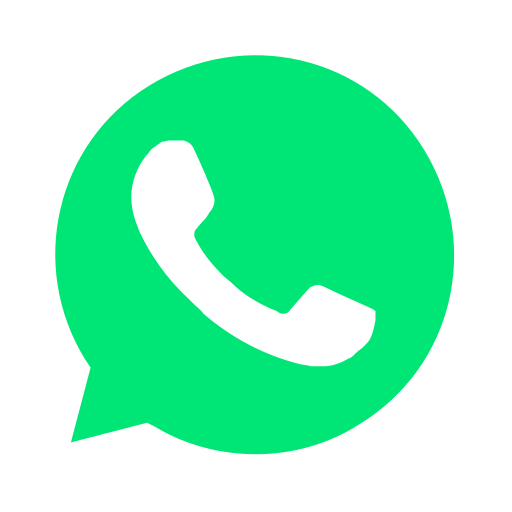 Join our WhatsApp group and receive curated news and offers in your WhatsApp Feed