Luigia offers the best of rustic Italian food in a lively setting.
Looking for wholesome Italian food?  Luigia at Rixos Premium JBR is your answer.  A spacious space that offers everything from table seating, booth style couches, communal tables and bar stools, it is ideal for intimate dining or then feasting with a large group. Oh, and children are very welcome-read on to see why the kids will insist on going back!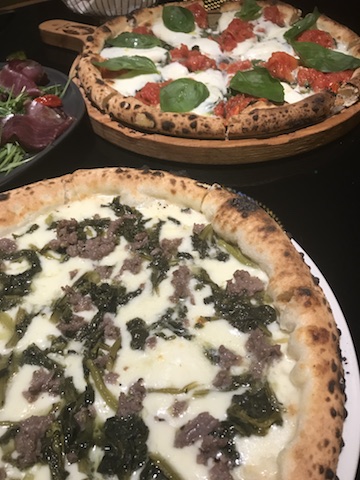 Serving authentic Italian cuisine, the restaurant offers a very large selection of pizzas on their menu.  Each pizza is made to order in the large brick oven which is the main feature of the restaurant.  They use fermented homemade dough that sits for 48 hours and is the reason why the base is so light.
There is a large selection of pizza varieties to pick from.  There are several varities of even the margarita pizza-made with grandmother's secret tomato sauce.  The buffalo mozzarella is from Campania, the stringi Fior Di Latte is from Naples, the Vesuvio Piennolo cherry tomato are from the mountain region of mount Vesuvius, and our favourite San Marzano tomatoes are from Naples.  There are all types of toppings to pick from-simple cheese to spicy sausage and Gaeta olives. The pizzas are perfect for sharing and extremely well priced and start at 65 AED.
Although we recommend starting with the pizza, don't miss out on the homemade pasta dishes either.  Our favourite was the shrimp tail, zucchini, shallots and Piennolo tomatoes (95 AED) one.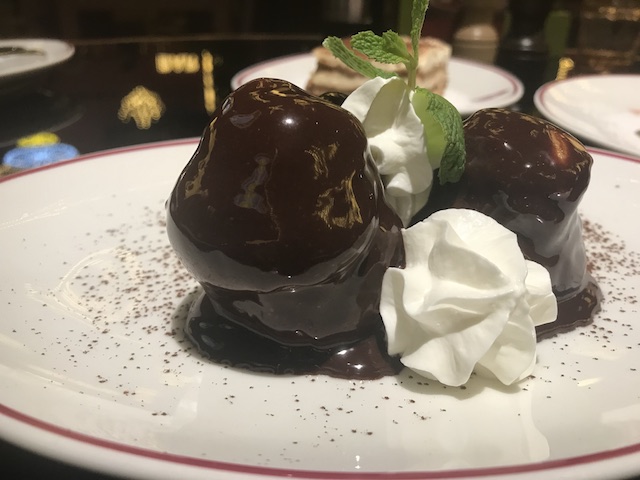 The desserts are simply fabulous.  Don't miss the tiramisu or the profiteroles.  The children will not only love the food but will also enjoy the spacious play area with lots of games and private cinema complete with bean bags.
Luigia offers a buzzing atmosphere, friendly service and authentic Italian food.  A must-visit if you are looking for a well-priced Italian eatery in JBR.
"POP AND PIZZA NIGHT" EVERY WEDNESDAY
In the mood for just pizza during the week? Head on over to Luigia for their 'Pop and Pizza Night' that takes place every Wednesday from 6 until 11 PM. You can enjoy three glasses of 'pop' with any pizza ordered from the a la carte menu (you have 48 pizzas to pick from!). Alongside classic toppings, highlights include the Donna Teresa, which comprises of Tomato sauce, Fior di Latte, beef salami, Ricotta, Grana Padano and basil, and the Linosa, topped with homemade Tomato sauce, Fior di Latte, eggplants, salted Ricotta, basil, Grana Padanoand the Smeralda, with Buffalo mozzarella, baby tomatoes, Ricotta and bottarga.
Luigia's homemade pizzas are light, aromatic and tasty. Made with 100% Italian grain from the Rachello Oasis, an Italian family of millers, since 1901.  Their naturally ferment dough, which is proofed between 56 to 72 hours, guarantees smooth, easily digested and simply delicious pizzas. Luigia only uses the highest quality ingredients sourced from Italy as toppings for thir pizzas and their rich tomato sauce is a secret recipe past down from the founders grandmother. All pizzas are finished off with a drizzle of Italian extra-virgin olive oil, carefully selected by the team.
For added Italian finesse, Luigia has opted for a red pop, named Lambrusco, a perfect paring with the Pizza. Unique to Italy,  Lambrusco is a light, fresh sparkling grape that is coming back into fashion.
AED 150 for three glasses of pop with any pizza from the a la carte menu
Every Wednesday
Launching August 29th, 2018
6 – 11 PM
Luigia
Rixos Premium JBR
Tel: +9714-3496950
---
WOVEN ACCESSORIES
---

---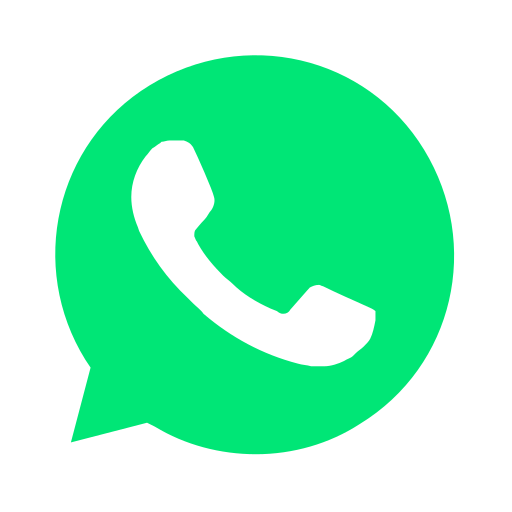 Join our WhatsApp group and receive curated news and offers in your WhatsApp Feed