SUBSCRIBE TO OUR NEWSLETTER
Want to make sure you know about the next private sale? The latest new hot spots and places to hang out in Dubai? Join our community to be the first to know.  Register to our newsletter, thousands of readers have signed up already!
LVL Lashes, which stands for length, volume and lift, is available at the recently opened super chic Browz salon.
We thought we'd heard it all. Keratin for the hair? Tick. Vampire face lifts? Been there, done that. But a treatment that uses serum to lift the eyelashes? Now, that's a first.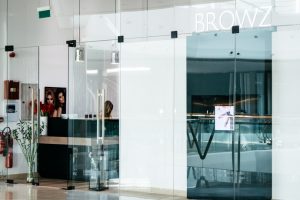 LVL Lashes, which stands for length, volume and lift, is available at the recently opened super chic Browz salon at The Mall on Jumeriah Beach Road. Trust us, it's an eye-opener.
While we've dabbled in lash extensions in the past – cooing at ourselves in the mirror for the first couple of days as we appreciate our new Bambi-eyed look –getting extensions is a bit like going back to a bad relationship. It always ends in tears. The glue starts to become hard and heavy, your whole face starts to feel weighed down and you just can't resist pulling them out. One by one. Leaving you a lot worse off than before you started.
Not so with LVL. Not only does the treatment have the opposite effect by actually opening up your eyes and making them look lifted and wider (as opposed to droopy), it's actually good for your lashes, with length and thickness improved with every application. I didn't believe that my therapist's lashes were real at first, but she's been doing LVL regularly for the past 18 months – it's recommended that you do it every four to six weeks.
First the therapist cleans the lashes before putting a shield over the lower lashes to protect them from the perming solution. Then your lashes are combed out and shields are put on your upper lids with your lashes gently pulled onto the shield. A lotion is applied and left for approximately 10 minutes followed by a neutralizer for around six minutes, a tint to darken them, and then finally a moisturizing serum. At no point during the treatment do you feel any discomfort.
The results? They're so effective that I did a double take when I looked at the mirror – I had no idea my lashes were capable of looking so curled.
Within 24 hours you're allowed to get them wet and wear mascara – not that you'll need to.
LVL enhance lash treatment costs Dhs390 at Browz, The Mall Jumeirah Road, Umm Suqeim.
+9714-3214828.