Caesars Palace Dubai has joined forces with local culinary expert Zahra Abdalla this Ramadan.
If you are looking to enjoy a blissful suhoor this year, then head over to Caesars Palace Dubai. The stunning resort has joined forces with local culinary expert, Zahra Abdalla to offer guests an unforgettable Ramadan experience.
We are already huge fans of Zahra's food and follow her recipes all the time. The menu is based on her nostalgic recipes, inspired by flavours of East and West. Describing herself as a 'modern day bedouin ' Zahra started her culinary journey in 2010 as a food blogger before becoming a TV personality, an award-winning cookbook author and restaurateur. She is known for her modern interpretations of Middle Eastern cuisine influenced by her time spent in different cities around the world.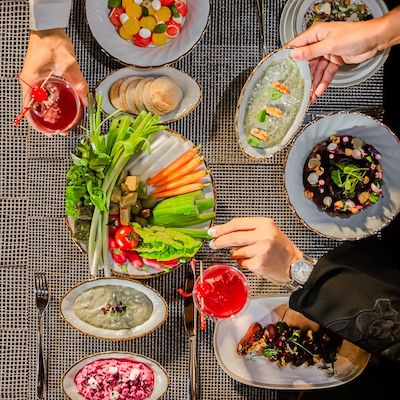 Located on the first floor the outdoor terrace overlooks the sea and resort. The calm ambience and relaxed setting is ideal to enjoy a quiet and intimate evening with close family and friends.
The menu has a variety of dishes created especially for warm Ramadan evenings, from refreshing kombucha iced teas to watermelon and feta salad.
We began with the refreshing kookoo sabzi platter that comprised of Persian herb frittata, fresh tarragon, mint, cucumbers, baby carrots and served with beetroot, spinach and courgetti borani.
The watermelon and feta salad was elevated with the marinated onions and tangy sekanjabeen dressing.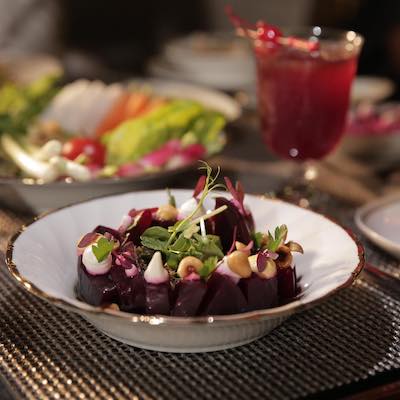 We also picked the sweet and sour passtilla made with braised duck, ground almond and cinnamon. Another delightful small plate was the slow cooked cherry kofta topped with a sour cherry sauce.
The star dish is the golden lamb shank that is ideal for sharing. Tender lamb that is marinated in spices and honey and then topped with 20 carat gold lead. It comes with a side of mast-o-khair.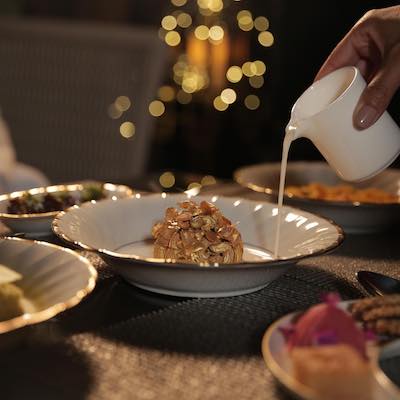 Those craving something sweet will be delighted with the choices. We picked the baklava umm ali. A unique combination of camel milk, pecan pistachio and almond cream and drizzled with rose water.
The Ramadan experience at the Roman Lounge, presents guests with the very best of Arabian food which feeds the soul.
Daily during Ramadan, from 7pm until closing
The Roman Lounge, Caesars Palace Dubai
From AED 160 per person (minimum consumption)
To book, contact +971 (0)4 5566466 | dine@caesarsdubai.ae
---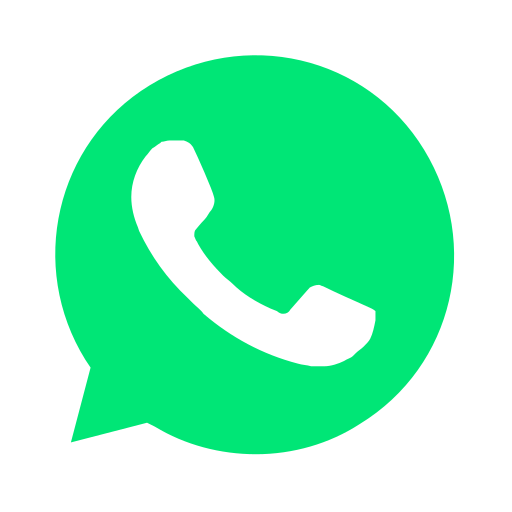 Join our WhatsApp group and receive curated news and offers in your WhatsApp Feed