Check out this hair perfume brand everyone is talking about
Founded in 2006 in Sweden, the brand name Byredo is short for "By redolence" that refers to the core message the founder, Ben Gorham wanted to share as each perfume is inspired by a place, feeling or scents that relate to him.
A minimalistic design and poetic perfume names are part of this brand's signature.
Bal d'Afrique for example was inspired by the city of Paris and the Parisians fascination in the 1920s to African culture and art.
Most of the time, the perfumes are unisex with formulas that on purpose don't mix too many notes, each carefully being selected and justified with this memories approach.
Hair Perfumes
When we discovered the Byredo hair perfumes, we couldn't help but pick up all three fragrances (Gipsy Water, Bal d'Afrique, Blanche). Ideal for the UAE, these perfume sprays allow you to delicately scent your hair and diffuse the subtle and weightless fragrance throughout the day.   Each Hair Perfume combines one of the brand's signature scents with a unique silicone and polymer formula that keeps the hair nourished and of course smelling amazing!
Shop some of our favorite hair perfumes (208.30 AED) below
BLANCHE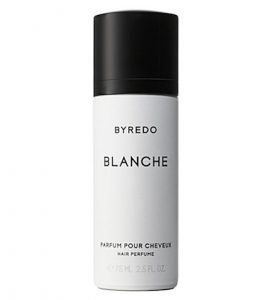 The idea for Blanche is, as the name suggests, built around the perception of the color white of the founder of Byrdeo, Ben Gorham. This fragrance has been made with a specific person in mind to capture her innocent and untainted side, with a fragrance almost transparent in nature. Blanche also represents an appreciation for classic beauty.
Top: Aldehyde, Pink Pepper, White Rose
Heart: Neroli, Peony, Violet
Base: Blonde Woods, Musk, Sandalwood


---
GYPSY WATER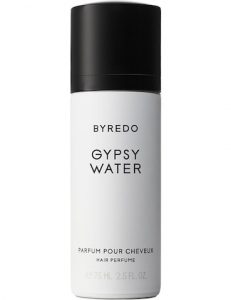 Gypsy Water is a glamorization of the Romany lifestyle, based on a fascination with the myth. The scent of fresh soil, deep forests and campfires evokes the dream of a free, colorful lifestyle close to nature.
Top: Bergamot, Juniper Berries, Lemon, Pepper
Heart: Incense, Orris, Pine Needle
Base: Amber, Sandalwood, Vanilla


---
MOJAVE GHOST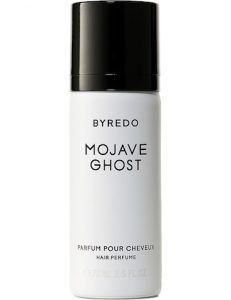 The soulful beauty of the Mojave Desert is as comforting to many as it is hostile to others. In this xeric wilderness a rare species dares to blossom above this baked, hard ground. Its pale almost trans¬lucent petals suggest a delicate, fragile state.  Mojave Ghost is a woody composition with a light and graceful character that slowly discloses its true intensity.
Top: Ambrette
Heart: Magnolia, Sandalwood, Violet
Base: Cedarwood, Chantilly Musk, Crisp Amber


---
BLACK SAFFRON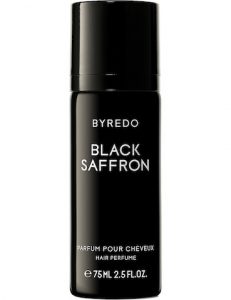 Black Saffron is a hommage to Byredo's founders Indian upbringing.  A spice that is so unique and special, this perfume is a must-try.
Notes
Top: Juniper berries, pomelo, saffron
Heart: Accord cuir, black violet, cristal rose
Base: Blonde woods, raspberry, vetiver


---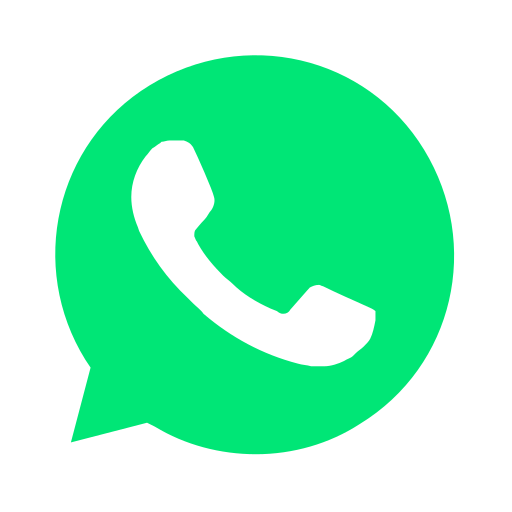 Join our WhatsApp group and receive curated news and offers in your WhatsApp Feed